Tire Discount Center, PA State Inspection, Media PA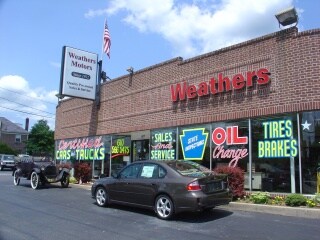 Tires    
Media - Philadelphia -  Delaware County
Weathers Motors Delaware County and Media 19063
Your #1 choice for quality tires and value
- Stay safe- Save $$$$$$

Best tires - best tire prices - compare and save.
Just a few brands that we carry:
Continental, General, Michelin, Yokohoma, Kumho, Nexen
Set an Appointment
Your Tire Maintenance Checklist
Don't forget about your tires, they will keep you safe if you take care of them.
Proper tire care and safety is simple and easy. The Rubber Manufactures Association (RMA) recommends getting in the habit of taking five minutes every month to check your tires, including the spare.
| | |
| --- | --- |
| | Pressure - Under inflation results in unnecessary tire stress, irregular wear, loss of control and accidents. A tire can lose up to half of its inflation pressure and not appear to be flat! |
| | Alignment - A bad jolt from hitting a curb or pothole can throw your front end out of alignment and damage your tires. Have a tire dealer check the alignment periodically to ensure that your car is properly aligned. |
| | Rotation - Regularly rotating your vehicle's tires will help you achieve more uniform wear. Unless your vehicle's owners manual has a specific recommendation, the guideline for tire rotation is approximately every 5,000 miles. |
| | Tread - Advanced and unusual wear can reduce the ability of tread to grip the road in adverse conditions. Visually check your tires for uneven wear, looking for high and low areas or unusually smooth areas. Also check for signs of damage. |
Serving Delaware County, Chester County, Media, Aston, West Chester, Springfield and the Philadelphia region since 1922.
 Auto Repair. Truck Repair.
Tires in Delaware County, Tires in Media Pa- count on us!
19063, 19037, 19081, 19016, 19064, 19087, 19083